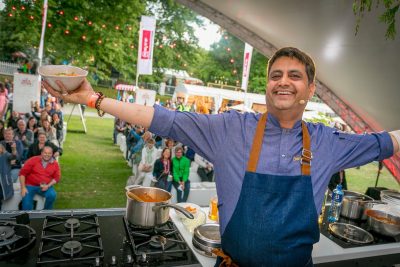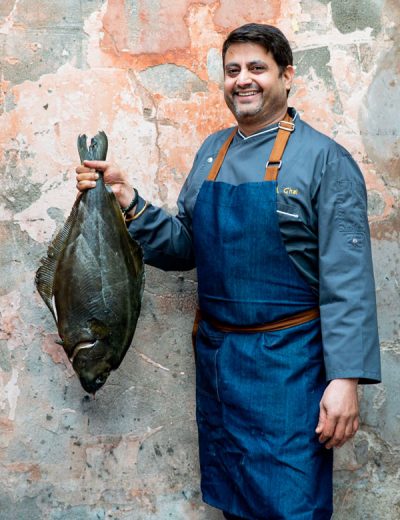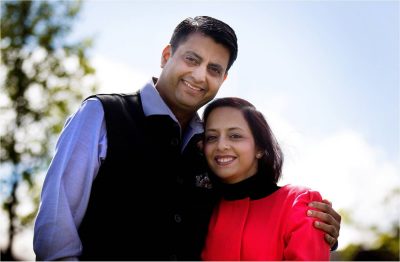 About us…
Multi award-winning chef Sunil Ghai was born in Gwalior in Northern India and was influenced as much by the exceptional home cooking of his mother as he was by the rigorous experience of working with the French chefs of the world-famous 5-star Oberoi group for three years once he had finished his formal training. Sunil brings these two strands together on every plate, using his French fine-dining background to create inventive and elegant takes on authentic Indian food, with sophisticated spicing and an intelligent use of fine Irish ingredients.
Sunil has lived in Ireland since 2000, originally working in Jaipur, then Ananda, and winning Food & Wine's Chef of the Year, and Best Chef in Ireland among many other significant awards. Opening his first restaurant, Pickle, on Camden Street in 2016, Sunil and his team have revolutionised Indian food in this country.
To Pickle and Tiffin, the family favorite he opened in 2017 with his wife Leena in Greystones, Sunil Ghai added Street, to his mini-Irish culinary empire.At Street, Sunil & Leena have focused on traditional recipes from their childhoods in India.
Sunil is always looking to bring his favorite recipes & dishes to the Street menu, "I always wanted to open something small for family gatherings where people can get together with their nearest and dearest and have fun while the team at Street look after them like a family at home."
With limited seating available, Street is a perfect place to enjoy some simple, wholesome Indian food.
There are a super team of four chefs at Street who all come from different regions of India and have a huge passion for cooking and have spent years perfecting curries, biryanis, tandoori breads and kebabs, roasting spices and making spice mixes. They know the importance of flavour and make all the pickles, chutneys, spiced nuts, lemonade & Punjabi mango lassis in-house also which are available to order online or pick up in store.
Sunil's wife and business partner, Leena, is always eager to bring something of home to Street like having samosa from the Guptaji's shop in Shimla while going to school or having chana bhatura at Sitaram shop every Sunday with her father – "When Sunil and I met in Shimla there was many similarities we had but out of all the best thing was that we both love good, tasty street food! And believe me we can eat that any time in 24hrs – even if you wake Sunil at 3am and give him nice aloo tikki he won't say no to it!"
It's these memories and love of Indian street food that Sunil, Leena and the team aim to bring to Street on Bird Avenue!
Leena, Sunil, Ishan & my best boy, Junior
2015 Best World Cuisine Award. Restaurant Association of Ireland

2014 Best Ethnic Restaurant. Restaurant Association of Ireland

2013 Best Chef in Dublin Award. Restaurant Association of Ireland

2013 Best Chef in Ireland. Santa Rita Restaurant Association of Ireland

2013 Best Restaurant in Dublin

2010 Best Ethnic Restaurant
2010 Best Innovation of Seafood Award

2009 Best Chef in Ireland. Food and Wine Magazine

2009 Best World Cuisine. Food and Wine Magazine

2008 Best Chef in Leinster. Food and Wine Magazine

2006 Best Chef in Leinster. Food and Wine Magazine

2006 Best Indian Restaurant
Open 4pm to 10pm | Closed Tuesdays